Oh well, exams around the corner.

Don't worry I'm not sick at the moment.

Basically I need another brain so that I can function 24 hours straight.

Basically this few weeks I have been dreaming on going to X-Japan's concert which I know it will not happen.

I have been praying very hard for them to come to South East Asia.

Well they will be going to Taiwan for a concert on the 2nd of August.

Yoshiki-san....how can you treat your fans like that by choosing only 1..yes ONE!! country in Asia. How could you!!

You should have another maybe in Bangkok or Singapore or Hong Kong.

I'm praying as much as possible. Crossing my fingers. Even Nichi is planning to go Taiwan. Damn jealous.

Lately I have been very obsessed with this guitarist.

It seems that he became so hunky and stylish out of a sudden. OH well...oklar..he looks cute last time. But now..too hard to resist. I know you guys must be thinking that i'm boasting or fantasizing a lot.

And that's......INORAN!!!!
The guitarist of the legendary band, Luna Sea.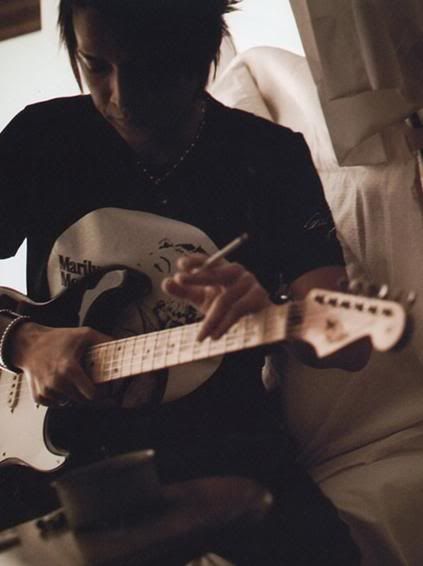 I know I have a weird taste. And yes I purposely post a pic that with him holding a cigarette I'm not saying that I like guys who smokes but I like cool hunky guys who smokes. And did you notice, he is actually a LEFTY!!! yeah...that's a bonus.
J I haven't forget you. You will still be my favourite bassist. As well as my dream guy.
Same goes to you Hide-sama.
So...Darius go eat shit!!!

Now I felt like I have been falling in love with the wrong band for the pass decade. WTF!
Really. After investing so much of getting so many Glay stuff only I realised they are not my true love.
Fuckhenathan. Well not that serious lar. I like the older days of Glay. The GLay now tends to be too popsy.
Since watching Hide Memorial Summit and God Bless You~One Night Dejavu online, only then I realised that Luna Sea performance has got substance. And from there I noticed Inoran is so cute. So that is why.

After that, I watch and read a lot of stuff on Luna Sea to know them more.
And I manage to find one pirated MP3 CD which I bought very very long ago. And there like 3 albums over there which one of it, I have already owned it. So the other 2 I just copied it and listen.
Now, I need a dose of Luna Sea every few hours. Its worse than the first time I started obessessing with GLay.
Honestly, the very first J-Rock song and MV i watched is not on Glay. It never was GLay. It was Luna Sea. I remembered it clearly as it was around 1999. Cuz that the time everything was about this teenager group Speed. Then I was watching this Taiwan music show and it happens to view this clip.
My first impression. "EEyer...why the guitarist play the guitar until like that?'. I searched for the video. I know the video is not from the Shine era. So it must be before the Shine era. I searched for it and I managed to find it.

Luna Sea- In Silence. No kidding. The remember the part where the lead singer in sitting on a chair and the members playing the instrument around him. I also remember he wasn't singing and keep on looking on the camera.
Back to the topic.
Yeah I need a heavy dosage of Luna Sea everyday at a time like this when actually I need to work my ass off preparing for my exams. WTF
I was youtube-ing around and found Breathe. I had this song in my MP3 for quite some time but skips it everytime. Then I used up some of my time to listen it. I watch the music video for the first minute then the video stop loading and I go watch the live instead. I fell in love immediately after watching it. Both "God Bless You" version and the "Shining Brightly" version. The guitar performance by Inoran throughout the song was so calming. Overall the song possesses a very good vibe. Guess who composed it?? INORAN!!! Fantastic. This song is also the one of the songs in Mulan's official soundtrack, japanese version.
24.12.2007 God Bless You.

Inoran looks so handsome. I must admit he's thinner now.
24.12.1998 Shining Brightly

Inoran looks slightly fatter. He looks like a good boy. How cute.
The next song that I like was MOTHER. This song sounds very emotional. The first time I heard it few days back. I don't know why this happens..there were tears. No kidding. This is the 2nd song that made me cry. The first one was Without You by X-Japan. The way Ryuichi sang this song live was just fantastic. Sugizo's violin performance suited the song so well. And guess what, INORAN was the composer for this song.
1995 Lunatic Tokyo

Ryuichi looks thin, Even Shinya is thin. J's hair is cool...


2000 Final Act

I like the lightings. Like very sad.

Don't worry J. I like your RA-SE-N. Powerful song.
Ok enough of live performance.
Now for MV. My favourite MV is Shine.
Why? I like the ending. Inoran looks so cute. J looks cool, he should have been topless. Sugizo's flamboyant, as usual. Ryuichi's eye is seducing me in one of the part.
Haha. Now Ryuichi is so fat. And tacky...you should see him wear that G*ll**n* brand top at Hide Memorial Summit. Nightmare. J is getting more manly. Inoran is thinner n more handsome now. Sugizo..hmmm...still the same. Shinya...fatter but i watch one tv show few days back, he lose some weight though.
Sigh.
Since then, I have been wanting to get their albums and DVDs. The DVD that I'm dying to watch n own it now is God Bless You~One Night Dejavu and Manatsu no Yagai. Besides that Lunatic Tokyo's playlist is quite good. Final Act, still thinking because it's quite expensive. I'm hoping for Capacity Infinity to release again.
As for albums...I want all of them. Especially MOTHER.
All this needs money. And I have to start investing all over again. Just like I started Glay's almost 10 years back. But I think this time I will need a shorter period of time.
And lastly, In My Dream.
I'll see you in my dream. La~~la la. La~la la la~
Good Night.
(I couldn't believe I used up my precious 3 hours to study for my exams to blog. Now I can study in peace. )